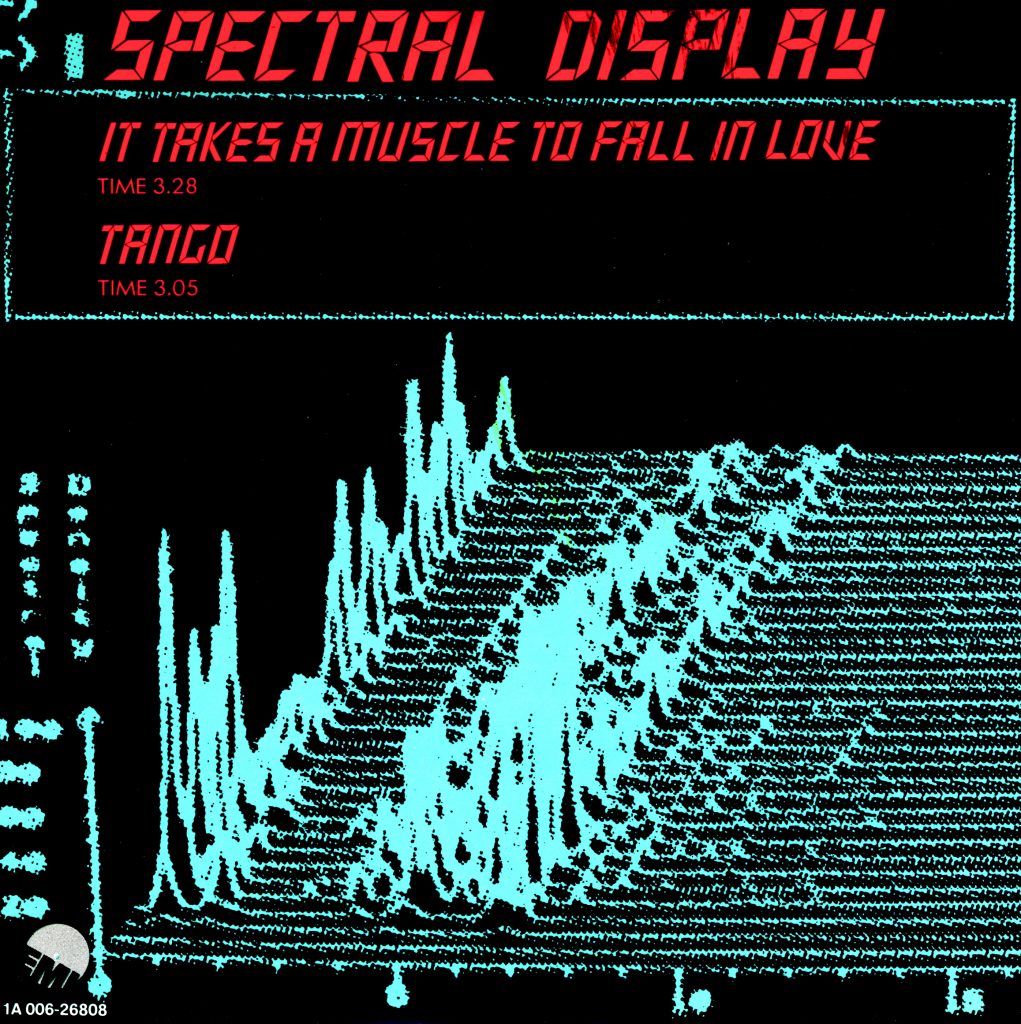 2023
Spectral Display
EMI Records

'It Takes A Muscle To Fall In Love' was the first single by Spectral Display.
It was released in 13 countries. First in Holland and Italy, followed by France, Germany, Spain, the UK, Belgium, Australia, New-Sealand, Japan…..
The album also includes the singles 'There's a Virus Going Round' and 'Electric Circus'.
Written by Michel Mulders & Henri Overduin.
Lead vocal: Henri Overduin.
'It Takes A Muscle [To Fall In Love]' was covered by M.I.A., produced by Diplo. It was released as the second single of the album MAYA.
From 2012 on, 'It Takes A Muscle' has been covered and was used in various international films and its popularity has risen.
On the digital channels it reached over 5 million streams/downloads. The song has been used in the american movie 'Simon Killer' from filmmaker Antonio Campos, 'Prince' from dutch filmmaker Sam de Jong and the romantic american comedy 'Straight Up' directed by James Sweeney.
The Meaning of the lyrics of  the song'It Takes A Muscle [To Fall In Love]'
The song is about the idea that falling in love is not a passive experience; rather, it takes effort and courage to open oneself up to love and to maintain a relationship.
The lyrics suggest that love is not something that can be achieved effortlessly or without some degree of risk. The phrase "it takes a muscle to fall in love" implies that, just like building physical strength, falling in love requires an intentional effort and a willingness to put oneself out there emotionally. The song suggests that while love can be challenging and even painful at times, the rewards are worth it in the end.
Overall, the song's meaning is one of encouragement and positivity, urging listeners to be bold and open to the possibility of love, even in the face of potential obstacles.


It takes a muscle to fall in love (Remix) 
Written by Michel Mulders & Henri Overduin
Vocals: Henri Overduin
Backing Vocals: A3ana, Mandy Huydts
Introduction by Lucy Brownhill

It takes a muscle to fall in love (Reggae Version) 
Written by Michel Mulders & Henri Overduin
Vocals: Henri Overduin
Backing Vocals: A3ana, Mandy Huydts
Guitars: Arie Storm
Bass guitar: Michel van Schie
Introduction by Lucy Brownhill
It Takes a Muscle to Fall in Love 
When everybody leaves you lonely
And times are worse than sad
And the world is falling on your head
Just remember for all you know
Good or bad, come what may
You're gonna live tomorrow if you don't die today
It takes a muscle to fall in love
Now the fear got in me
It's got in me deep
That's where it's gonna stay and never leave
Someone come and lay my worry
Someone come and kill my pain
Someone come and put me on my feet again
It takes a muscle to fall in love
We gotta love one another
That's what the good man say
But I got too much trouble going 'round my head
Someone come and pick up my love
Take it all away
Feel like i'll break down tomorrow
If I don't die today
It takes a muscle to fall in love